PLEASE NOTE: Not all webbing options shown are available in all regions. An additional charge may be applied for non-stocked webbing options. Please contact your local Tensator office to find out which options are available in your region.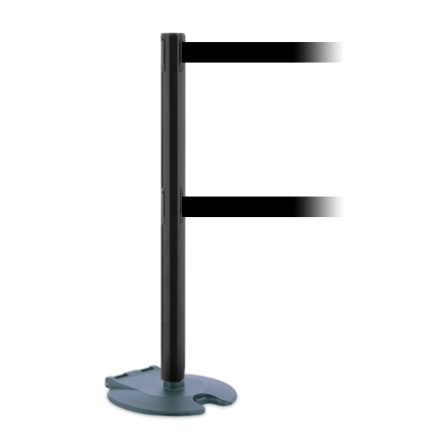 Rollabarrier® Dual Line Post
The Rollabarrier® Dual Line Post can be used with the following base types...
Rollabarrier
The Rollabarrier® Dual Line Post is available with the following finishes...
Powder Coated
Charcoal Grey
Chrome Over Steel
Brushed Stainless Steel
Chrome Over Steel
Polished Chrome
Chrome Over Steel
Satin Chrome
and with the following standard printed messages...
The patented Rollabarrier® Dual Line is designed to ensure easy set up of a temporary queue barrier system. The additional retractable belt will prevent children or people from ducking underneath the barrier tape, which helps maintain control of areas with high footfall.
This Tensabarrier® is compatible with 2.3m / 7'5", 3.65m / 13' webbing and receiver
Why choose a Rollabarrier® Dual Line?
Invaluable for keeping control of areas of highfoot fall or where children are, as the second line of webbing prevents
Stanchions can be stacked together for compact storage, taking up 50% less space than a standard post
Stanchions don't have to be lifted to be moved, simply tip back onto the wheels and move away, ideal for ever changing queue layouts
Plain, chevron or double sided printed message webbing
Modular cassette design offering four-point anti-tamper connection
Originally patented Tensator centrifugal breaking system making it the safest retractable webbing system
Accommodates a full range of accessories
Product Search
We'll locate the product for you